Episodes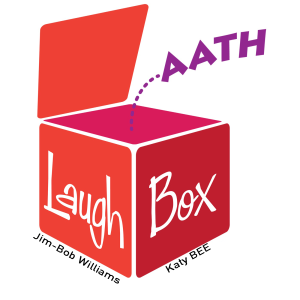 Friday Jan 29, 2021
Friday Jan 29, 2021
Jill Knox was a light to the world and had a positive impact on everyone she met.  She not only served as President and board member of the Association but also was critical in the development and continuation of AATH's Humor Academy.  On this episode of Laughbox,  AATH remembers Jill.  We share some stories, some memories and even some laughs.
Jill Poole Knox
August 1, 1948 - January 16, 2021

Jill Poole Knox, 72, of Oceanside, CA, passed away on January 16, 2021 from complications related to type 1 diabetes. Jill was born on August 1, 1948 in Pittsburgh, PA, where she lived until 2007 when she moved to Oceanside. She graduated from Edinboro University (PA) with a Bachelor of Science in Education, and taught in public schools for 18 years with a specialization in special education.
She dedicated her life to service and took on leadership volunteer roles at church, school and community organizations throughout her life. In her second career, Jill forged a path focusing on the therapeutic and healing dimensions of humor and laughter, and became active in the Association for Applied and Therapeutic Humor (AATH), for which she served as president from 2013-2015. She was a Certified Humor Professional and Certified Laughter Leader, and she passionately believed in the important role that therapeutic humor and laughter can play in building a more peaceful world.Her contagious joy and zest for life continue on in her loved ones and the many lives she touched.
She is survived by her mother, Anna Lou Poole; her siblings Craig Poole and Wendy Devlin; her husband of 46 years, Charley Knox; their daughter, Stephanie Knox Steiner, Stephanie's husband, Greg Steiner, and their daughter, Daphne Steiner; and her son, Will Knox and his wife, Shalee Sucher.
She was predeceased by her father, David James Poole and her brother, Mark Poole.Celebrations of her life will be held in Pittsburgh and San Diego when it is safe to gather again. In the meantime, the family is inviting donations to be made in her name to the AATH Jill Knox Peace Scholarship Fund.
Music from https://filmmusic.io
"Run Amok" by Kevin MacLeod (https://incompetech.com)
License: CC BY (http://creativecommons.org/licenses/by/4.0/)