Episodes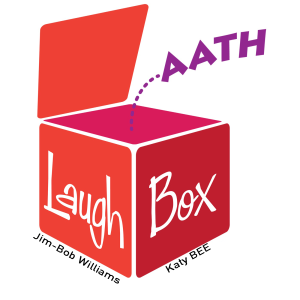 Thursday Feb 16, 2023
Thursday Feb 16, 2023
Kate McGlynn, aka Katy BEE is a first year Humor Academy student with AATH and the founder of a new Non-profit Joy First Foundation - https://www.joyfirst.org/ - which is dedicated to bringing, evoking, creating, and offering joy to all living beings. Joyful Moments are online and in-person spontaneous moments appreciating and being grateful to others with standing ovations, surveys, gifts, like noses, kazoos, awards, certificates, and more. Joy FIrst also offers donated clown visits to organizations supporting families, and kids in need, like senior centers, shelters, police stations, veterans services, and random people because EVERYONE needs a Moment of Joy. The Tour of Joy is ongoing and you can support the tour as spontaneous moments are being offered from her trailer, on the road, or with Joy Ambassadors. You can also be a host, or a joy ambassador and collaborate with Joy First Foundation. She also offers Laughter Yoga, Juggling and Hula Hoop Shows, Joy Coaching and more!
Scroll down for all the Joy First Links to Follow
Cathy Grippi - Joy Ambassador - Laughter Yogi
 https://laughteryogavenice.com/
I am living proof that the application of applied and therapeutic humor can help to heal the mind, body and soul!
At the age of 60, while feeling depressed, physically unwell and living in a new state, I needed to find ways to be of service and to find joy - seemingly an impossible situation to change having a negative mind set.
And then I found Laughter Yoga!
Olivia Vo - Joy Ambassador - Laughter Yogi and Social Strategist
https://www.linkedin.com/in/oliviavo-savvysocialpro/
Olivia Vo is a heart-centered entrepreneur and founder of Savvy Social Pro Enterprises, where she infuses her joyful energy, humor style, and savvy strategies for online collaborations and livestream events and productions. She credits the LinkedIn platform with providing her very first career in staffing as a recruiter and now as her livelihood as a social media content creator. 
She is a graduate of the USA Women Entrepreneurship Cooperative, received her Laughter Yoga Certification, a professional member of the Association for Applied Therapeutic Humor, and volunteers with Harmony Mind Body Spirit Wellness Nonprofit in Jacksonville, FL.
Olivia facilitates hands-on trainings and workshops both for in-person and online virtual events and available to speak on entrepreneurship, laughter for well-being, and LinkedIn profile optimization. She is known for her ability to connect and energize groups through her infectious laughter, empathy, and winsome smile. 
Her favorite collaborations are book anthologies and she is the bestselling author of several including, The Cinderella Monologues, The Impact of One Voice, Live Life in W.O.W!, and The Stories of Us.
You can follow Olivia's YouTube channel at https://youtube.com/@oliviasavvypro
JOY FIRST FOUNDATION LINKS
Facebook: https://www.facebook.com/JoyFirstFoundation/
Twitter: https://twitter.com/makejoyfirst
Instagram: https://www.instagram.com/joyfirstfoundation/
Tik Tok: https://www.tiktok.com/@joyfirstfoundation
Youtube: https://www.youtube.com/@joyfirstfoundation
Paypal donation link:  https://www.paypal.com/donate/?hosted_button_id=XG4FTEZUKTZXW
Venmo donation link: https://account.venmo.com/u/KateMcGlynn